This is a Sponsored post written by me on behalf of
Vectra flea & tick control
. All opinions are 100% mine.
Picture above is my stepdaughter's dog. Her name is Dixie, isn't she a cutie? Anyway, now that it is getting warm outside, ticks and fleas will be all over outside, just waiting for the perfect host to come for them to latch on! As a loving pet owners, you want to protect your dogs from getting infectious diseases carried by those parasites, not just because it is your responsibility to take care of them but also, we care for them because they're part of the family!
Anyhow, you may want to try a
free dose of Vectra flea & tick control
available at your local vet's office. This is a fact-acting, long-lasting repellant to protect your dog. It will kill through any contact without the parasite having to bite to die. This is so effective that it will kill the fleas in just 6 hours. Not to mention that it repels ticks, mosquitoes, biting and sand flies, lice and mites and prevents the development of all immature stages of fleas like the eggs, larvae and pupae.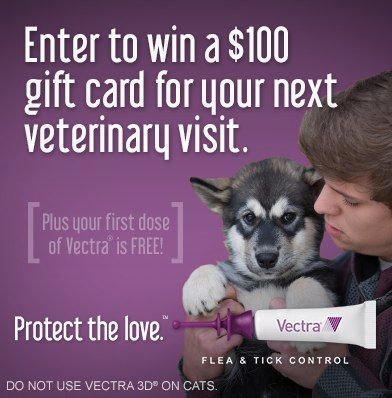 Anyway,
please do not forget to enter Vectra's Protect the love Facebook Sweepstakes for a chance to win a $100 gift card to use at your next veterinarian's visit. One gift card will be rewarded each week until the duration of the Sweepstakes. You can like Vectra's page on Facebook and follow them on twitter @VectraPet. And before I forget to mention, watch this short video below of the Vectra 3D!