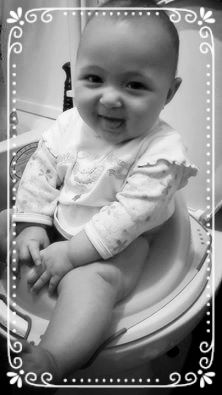 A lot had happened since I decided not to update this blog anymore 2 years ago! For a starter, I got pregnant last year and had given birth to a healthy baby girl just last April and she just turned 6 months old yesterday! It has been a different and a very delightful experience having a baby girl this time. My first two kids are boys, the oldest is 10 and the middle one is going to be 5 years old this November, and the youngest is a girl which has been dream come true! I have always wanted to have a baby girl and GOD granted me that wish which I am very, very grateful for!
Anyway, my baby girl's name is Angela Danielle which you can see in the picture above, and yes she is sitting in the toilet! She is only 6 months old but I have already started potty training her before she even turned 5 months old! So far, she's doing such a good job! She has not pooped in her diaper since we started over a month ago, she still has pee accidents when I don't get her to the toilet in time, but other than that, she is doing a terrific job, I am so proud of her!! If I had known before that it is this easy to potty train a baby, I would have done it with the boys this early!
My oldest son, he was almost 4 years old when I finally got him fully potty trained, and my middle son, I got him fully potty trained before he turned 2 years! So I might just hit a new record and have my little Angel fully potty trained before she turns one! That's definitely my goal!